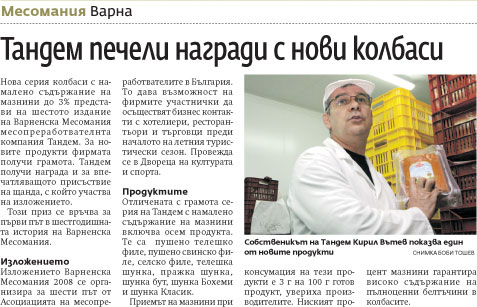 Events
TANDEM products for ladies
Newspaper "Pari" called the special series Delicacies with low fat content – up to 3%: "TANDEM products for ladies".

Enjoy reading by yourselves the pleasant newspapers editors' comment:
"There is an increased demand for TANDEM series of products with low fat content - under 3% by the fair sex in the retail net.

Ladies already know well, that the matter in hand is about a rich range of tender meats, prepared at special recipes: smoked turkey fillet, smoked pork fillet, veal ham, ham a la Prague, round ham, and ham "Bohemi".
For their preparation the sausage-makers from TANDEM use carefully chosen high quality meat. The products low fat content, controlled by modern installations, provides for the high quality of full value proteins and rich contents of vitamins А and D."

Source: http://www.pari.bg