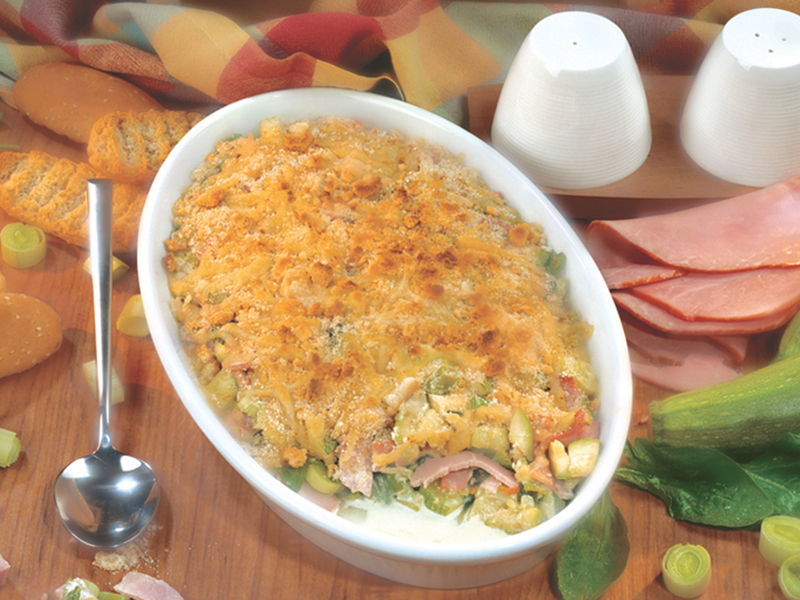 Delicious summer dish with zucchini, ham and spinach
Products for 4 portions
Preparation time: 40 minutes at most
Ingredients for 4 servings:
• 750 g coarsely grated zucchini
• 2 stalks of leeks cut into wheels
• 1 clove of chopped garlic
• 270 g ham
• 200 ml liquid cream
• a handful of fresh spinach
• some cooking oil (for greasing)
• 100 g breadcrumbs
• 1 tbsp. olive oil
• 50 g grated yellow cheese
• several pieces of rusk
Preparation
Preheat the oven to 1800C; make sure it is heated well. Put the zucchini, onion and garlic in a saucepan, lightly season with salt and pepper and add just a little bit of water to cover the bottom of the saucepan. Cover the saucepan with a lid and stew the vegetables for 10 minutes until soft. Then, strain them, remove the excess water and put them back in the pan. Carefully cut the ham into large pieces and add it to the pan along with the spinach and cream. Mix everything well and season further, if necessary. Spread some oil on the baking dish and pour the mix of vegetables and ham into it. Crush the rusk, mix with the grated yellow cheese and sprinkle on top. Bake for 25 minutes or until the dish turns golden.
Extremely tasty and fragrant dish you can serve and garnish with a yoghurt and dill sauce. And it's healthy because it is not fried.